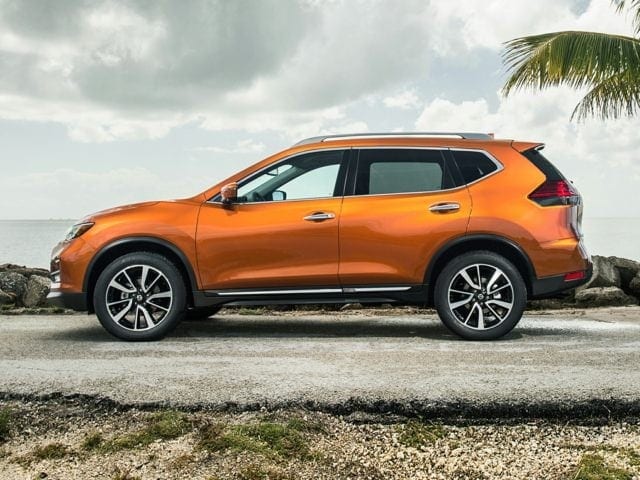 Thanks to the availability of a third row of seats, the Nissan Rogue stands out as the most versatile--and highest passenger-capacity--crossover option in Savannah. Or, at least, it did. For the new 2018 model-year, Nissan decided to drop the third row option in favor of optimizing interior passenger room and cargo utility space.

For shoppers who want to maximize fuel economy, while also pushing for maximum cargo space and seating, the 2017 Nissan Rogue or older models can still check all of the boxes on your list. If you want that extra row, make sure you opt for the Rogue Family Package.
Let's take a look at previous Rogue MYs to see which SUVs in the past offered seven-passenger seating.
Which Trim Level Offers 7-Person Seating?
Older-model-year Nissan Rogue S and Rogue SV trim levels both offer the third-row seat as an option through the Family Package; the Rogue SL is the only trim that cannot be equipped with the available sixth and seventh seats, which also means that you can only have five leather-clad seats at max.
What is the Family Package?
The Family Package in 2017 and older models adds the third row of seating, as well as privacy glass and run-flat tires.
Why run-flats? Because Nissan had to make room to install seats on the cargo floor, 2017 and earlier Rogue SUVs did lose the availability of an included spare. However, since more and more automakers are moving away from included spare tires in the cargo hold or underneath the vehicle, this isn't that much of a surprise--and, run-flats can be incredibly helpful, especially for families on the move.
The rear row offers convenient 50/50 split seat that can fold almost entirely flat--so, when you don't need it, you still get convenience and functionality of a flat load floor for gear, pets, or luggage.
Can the Third Row Fit Adults?
Like many smaller and midsize crossovers that seat seven people, the third row of the Nissan Rogue was really best suited for children or smaller teens--or, at least, shorter trips with adults. If you attempt any multi-hour excursion with your 5-foot-or-taller friends, you may strain your friendship if you put them in the very back.
If you need a third row in your new 2018 model, or if you'll often be traveling with seven full-sized passengers, consider the Nissan Pathfinder or the Armada.